Manila, ufff!
30 degrees. It is full, chaotic, dirty, loud, the traffic is stuck, you see poverty … and everyone seems somehow happy. No, Manila is not really beautiful. But I like the difference. I love getting all of this rubbed so clearly under the contrast nose.
I use my oropacks for the first time on this trip – in a single room. Yes, there is life out here. I trudge through the city for a day, two nights, then on to Palawan – to paradise.
And not alone. I get visit from home 🙂 Joolz and I meet in Manila at the airport and move on together …
Port Barton : secluded, idyllic
Beach, beach, beach! And coconuts. Picked myself – ok, found – and opened. Quite contemplative here. There are one or two bars on the beach, that's about it. We canoe to even more remote beaches – White Beach and Coconut Beach – and enjoy this picturesque idyll.
El Nido : feels like home
I stay here. This little bay in the north of Palawan is my home for this month. A small bay and even if there is a lot of tourism here now, I like the place, the relaxed hustle and bustle. I love to watch the tourists being loaded onto the small boats around 9 a.m.: island hopping, private tour or snorkeling. The divers are already outside at this time.
The first few days here turned out to be a little different. A typhoon caused plenty of rain. The group – the unique El Nido crew – that has gathered here, but does not let boredom arise. The only sensible activity in the weather: bar hopping!
And then I do what I had never thought about in my life: I register for the diving course – Open Water Certification with Palawan Divers (not commissioned). The rainy days can be used excellently to cool down the theory. And then there is no going back: jump into the water!
Change of perspective
I no longer need to think about whether I like that down there with the tube on my mouth. Creepy, shortness of breath, panic? No chance: I am registered. So there is no going back. Welcome to a whole new world!
How could I ignore that so far. Unbelievable what there is to discover down there. This variety of reefs at El Nido grabs me. I can't get enough. Lots of nemos in your anemones, rays, trumpet fish, butterfly fish, pirate fish, sea horses, shrimp, electric clamb … and turtles. Like a fairy tail to swim with. The world down there is colorful, fascinating, breathtaking.
You learn to act with the breath when it deprives you of it. Any problems you might have are solved under water. As of a certain depth, surfacing is no longer possible. Amazing what can be solved down there. A full or fogged up mask is the smallest challenge.
The first days after the typhoon – and thus my first days under water – we had a view of about 1 meter. Everyone can do it! So the main thing was to be careful not to lose your buddy. Focus! I could take care of all the animals down there later. After a few days the view was again more than 16 meters … and there was more and more to discover … and to be amazed.
Beaches : back on land
Still enthusiastic about the underwater world – but there is still a lot to discover on land. 1000 and 1 beach can be reached with the pretty boats of the Filipinos. I can not decide where I find it most beautiful. But it can not fail to take a look down at every beach with a mask and snorkel.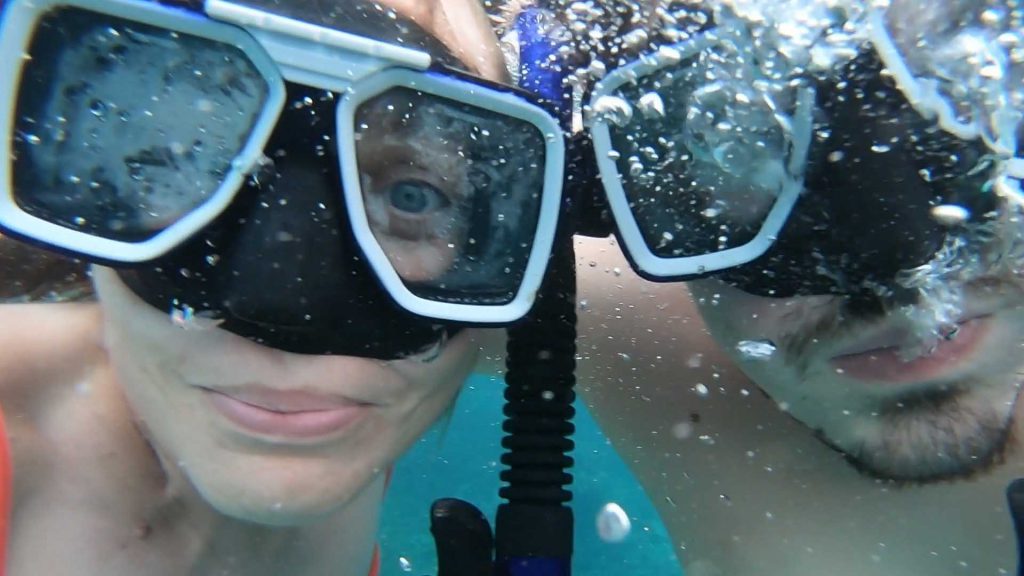 On tour : by motorbike through Palawan
What I learned by car in Mongolia is now only needed on two wheels: mogul slopes, mud, sand, stones – off-road driving is a bit more challenging. After all, in this case I would add any scratches to myself and not to the car paint. But it is super fun to explore the island in this way, to get to corners where tourists are obviously not seen so often. Past rice fields, up to mountains with an amazing view and over undeveloped roads down to the sea. I only forget to take pictures 😀
Daily routines : my life in El Nido
And I still celebrate the day when I was no longer addressed for a tour or a drypack. I have arrived, I am known now. I also moved: to a small room near Pacita on the beach at the other end of the bay. A real room. I live here now! If only until the end of November. But it actually feels different. I'm starting to get a few routines, buy a kettle. Morning coffee on the beach, then to the bakery, get breakfast. Office is also set up. Right around the corner there is a perfect place for my newly purchased hammock. I hit the buttons, finally get my whole truckload of thought salad in structure and on paper. Everything goes without mercy. I can't get rid of my laptop and notebook. In the evening the small bar, right next to my door, becomes the living room. When it comes to live music, the nutritional question is clarified and thanks to WiFi – even if it is snoring slowly – my computer feels quite comfortable here.
And I make another decision: I'll do the Advanced Open Water Diver on top of it – more skills and I can go down to 30 m. Said and done.
Things I learned in the Philippines
1. World tour – not without an underwater world. Somehow it belongs to our planet. I am infinitely grateful for this knowledge – and looking forward to further diving spots.
2. Jumping over your own shadow is almost always worthwhile. The jump into the water was admittedly a cold one for me. Jumping from a boat into the sea has not been one of my favorite pastimes. I always thought the jump itself was mega. But get down there, not knowing what's going on there. For me an overcoming and somehow scary. I've now left that behind. Get out of the comfort zone, have a look in the panic zone and take an ass bomb into the learning zone. Now I know what's down there, how nice it is there. Jumping off the boat in the future will be pure pleasure – next time in Hongkong I will enjoy the newfound freedom without the creep.
3. You can do over 10,000 dives. Kind of clear. Still, I find the number impressive. My diving instructor Pot has been diving up to 3 dives a day for almost 15 years, almost every day.
4. Scooters are family carriages. A family of up to 5 people is actually sitting on a scooter here. Together with mother-in-law and kids. Suits! It is also interesting that when a helmet is worn, it is usually worn by mom or dad – the children always ride without it.
5. 30 degrees make (me) lethargic in the long run. I love sun on my skin, warm, warmer, hot. But you are not really productive in the long run. Me at least. Even though I wanted so much, I was fully inspired. The combination of heat and wifi that only works very slowly at times caused my productivity to freeze. After all, it cooled down to 29 degrees at night. And I did a lot anyway – just not at the pace I used to.